This is a shirt I thrifted from my mother's closet when home for a recent visit. When asked where she got it, she replied, "I don't know, I think grandma gave it to me." Well, grandma has good taste, because she says that a lot when I ask her about her clothes. Everything about this shirt is anti-me: the pink, the fit, the length.. but I've been obsessed with plaid lately and somehow pink struck my heart after giving birth to a daughter. Ewww. I think I own maybe 3 or 4 shirts with pink in them now.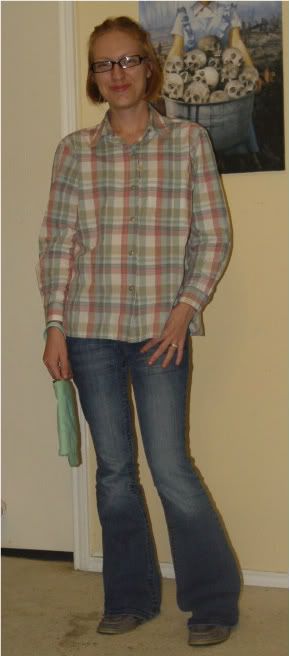 Today's photos are taken in our bedroom where the carpet is stained and you can't see our crap. It was dark by the time we took photos.
clutch: Delia*s
kids' name necklace: etsy
Cole and Stella: I never take this off.
Sperry Top-Siders

Back to this shirt. I can't decide if I like it or how to wear it, because tucked in it was a wicked mess. Belted with skinny jeans and boots, it looked frumpy. Jeans with a plaid button-down is a very classic look, which has always been good for me since I try to keep my fashion eye toward simple, elegant, classic with an edge.
(That's what happens when you're the size of a sixth grader.)
This outfit has
zero
edge. It's just something I pulled out of my closet this morning; it was raining so we didn't go outside today except to check the mail, and I wasn't even wearing shoes. For the photos, I paired it with the preppiest shoes I own and a simple spring clutch since it feels like spring outside. With two kids, I could never really use this bag for anything except a date night because, A) nothing fits into it, and B) there would be an automatic stain somehow, some way.