So it occurred to me that I only write in this blog about my children, which is fine, but there is much more to me than being a momma.
My tattooed momma friends are always telling me how cute I look at our meetups - I admit, I
love
fashion. I
love
getting dressed in the morning. Sometimes I lay out a week's worth of outfits dreaming of wearing them, but alas, the good ol' vintage doesn't get pulled out much these days. My cute little babydoll dresses wouldn't look so adorable with food stains crusted on them.
These days my outfits are more kid-friendly and exist mainly of leggings, boots and a long shirt and cardigan. Leggings are something I thought I'd never wear in a million years, but they were so comfortable during my pregnancies that I bought some from Victoria's Secret in black and gray and wear them with practically everything.My favorite recent purchases are a black and white shift dress from H&M, a gray short-sleeved tunic cowl-neck sweater, and black knee-high boots from Target that zip up the side for a little edge.
Today I wore these boots and sweater to brunch with the girls and kiddos. I paired them with black leggings from VS.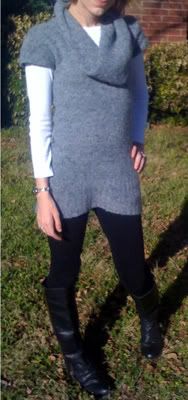 In short, when there's nothing to post about my kiddos, you may see an outfit or two. I
refuse
to be that momma who looks like crap all the time, even if I
don't
get to shower every day. ;)
(obviously, i need to improve my poses or my husband's camera angles.)