Today I pulled out my new red jeans, which turned out to be more pinkish than red... but hey, I still like them.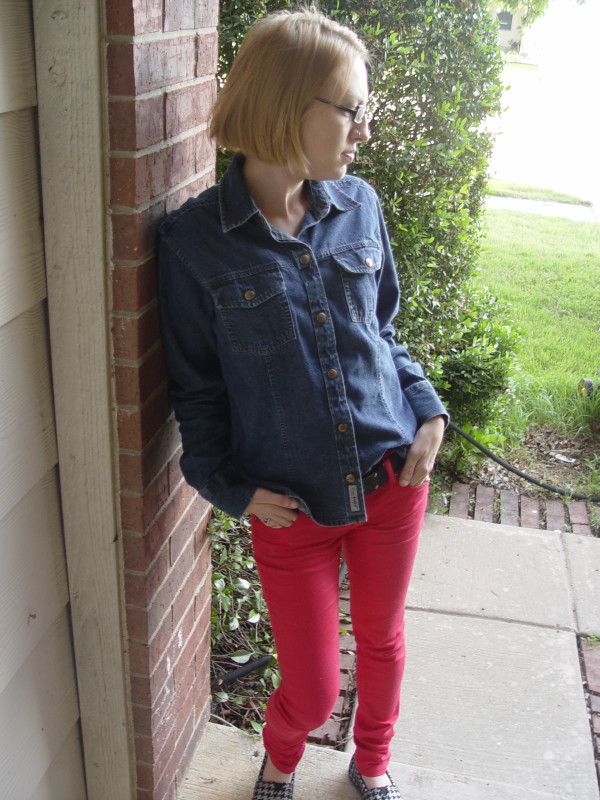 shirt: Eddie Bauer, thrifted. belt: The Buckle, old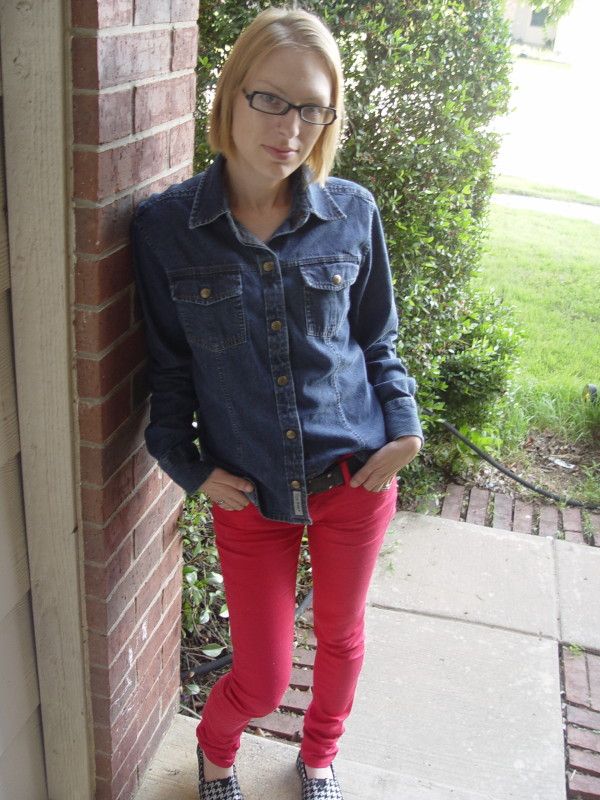 colored jeans: Target. shoes: TOMS. glasses: Zenni Optical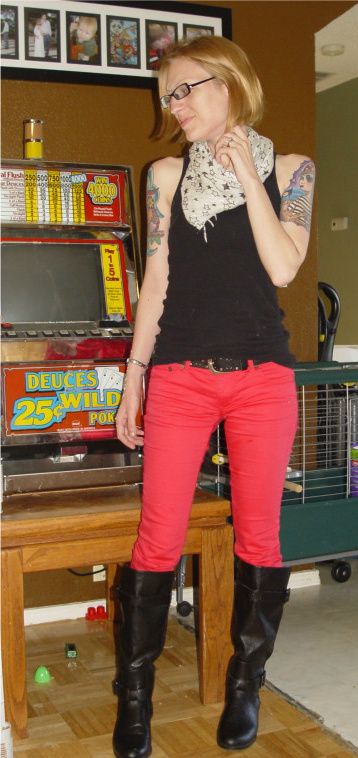 riding boots: Payless. tank: Old Navy. scarf: Walmart. toys c/o my children.
Stella's attached to Momma. Bunz is our dwarf rabbit, off to the right. The Deuces Wild poker slot machine was a gift to my husband from his boss's private collection.
In other areas, I've decided blogging every day isn't my style. For one, my kids keep me so busy that I can barely keep up. My house is disturbingly cluttered with toys and my kitchen is always overrun with dirty dishes, but hey, my kids are happy. Building block towers and scribbling with sidewalk chalk are like my reality TV and a cigarette
(bad, I know)
.. they hit the spot every time.
The last two weeks brought forth some significant events and will be remembered forever. Wish someone would have told me that before so I could have prepared. ;) Last Friday we took Cole to his preschool evaluation, where the speech therapist said, "He isn't pronouncing the end of any of his words, which is a definite indicator that he needs speech therapy." It's not like my heart sank, because we were already aware his tongue-tie made his speech develop poorly so he had a lot of work to do to train the muscles in his tongue to speak more clearly. We meet with another speech therapist next week so she can teach me exercises to work with him on at our house, since they are closed for the summer. This is disappointing because it means Cole won't have real speech therapy until the fall, when he will be 4 and supposed to be entering preschool. Although we can't afford preschool at this time, I was really hoping to get this figured out before he enters kindergarten and has to deal with other kids teasing him or worse, getting frustrated because he can't be understood and starts acting out.
Today I saw my OB after having a positive pregnancy test about a month ago. The second test, four days later, was negative and I started what I thought was my period that day. Three weeks later, while still bleeding, she confirmed that I had miscarried early on. I was emotionless until I sat down in my car in the parking lot....then I gave myself 10 minutes to cry and collect myself before heading home to my beautiful family. This being our second miscarriage, today made me hold my children tighter knowing how lucky we are to have the two beautiful babies that we have.
Five Things You Don't Know About Me Friday:
I've had my nose repierced 4 times, the first time at 17.
I only had one tattoo from 18 to 26, when I started covering myself. I have 10 tattoos.
My husband and I celebrate 7 years of marriage this month.
Instead of going on a honeymoon, we bought a house.
He is my best friend, security, and makes me laugh more than anyone ever has.